How to Use RapidMade's 3D Printing Instant Quote Tool
Instantly Order the Best Quality 3D Printed Parts in 6 EASY Steps!
1. Visit https://rapidmade.com/instant-quote – Click "SIGN IN" and "Create an account."
Enter your information to create an account.
2. Select the "Get Started!" button.
3. Drag and Drop your CAD file or click "BROWSE FILES" – for a full list of acceptable files see below.
4. Select your Correct Units, Technology, Material, Color, Production Time, and Quantity.
Nylon and ABS prints have additional option for threaded inserts under "Finishing Options."
Hit "ADD TO CART" to populate your shopping cart. Repeat for other CAD Models you uploaded.
Click on your Shopping Cart next to the "SIGN IN" button to view your cart and check out.
5. From the "My Cart" view you can double check your order, edit quantities and remove items before clicking "CHECKOUT" to check out. You can also hit the mini printer icon to save out a PDF quote from which you can order later.
6. At Checkout, confirm your "Bill to," Ship to," "Delivery Method," "Payment Method," and read and agree to our terms before checking out.
Customers set up with terms should select the "Invoice" option and email a Purchase Order to info@rapidmade.com or a member of our sales team.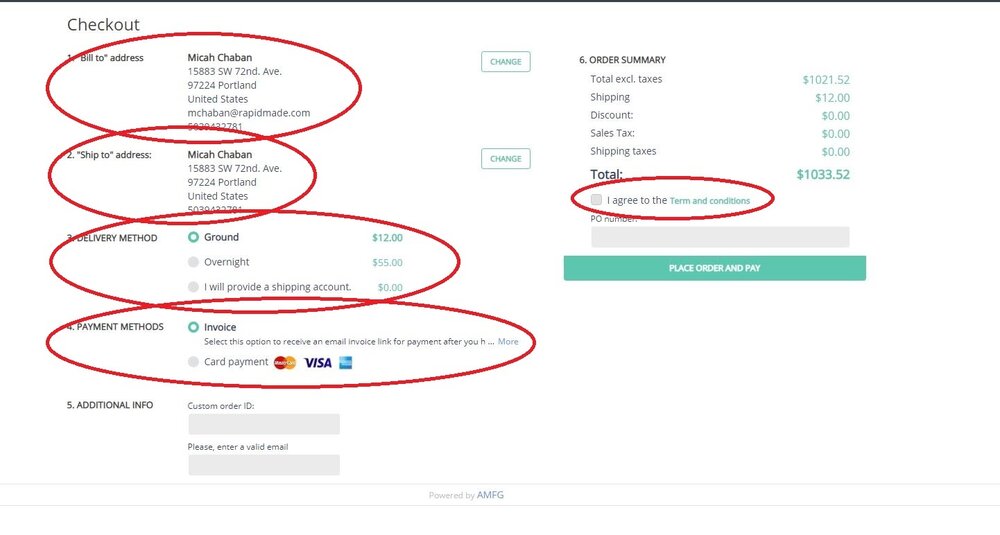 Please Read the Fine Print:
The minimum order is $150.

Orders placed after our 4PM EST / 1PM PST cutoff Monday thru Friday or on weekends will be initiated next business day.

2 business day orders placed before the cutoff: Saturday/Sunday/Monday ship on Wednesday, Tuesday on Thursday, Wednesday on Friday, Thursday on Monday, Friday on Tuesday.

5 business day orders placed before the cutoff: Saturday/Sunday/Monday ship next Monday, Tuesday next Tuesday, Wednesday next Wednesday, Thursday next Thursday, Friday next Friday.

Please make sure your units (in or mm) are correct in the left-hand column. STL files have no units and must be user defined.


Large files may take time to process and the maximum acceptable file size is 50mb.


No order is ever initiated without a deposit or purchase order (if you are approved for terms.)

Parts must conform to "specifications" under the "See Material Options" menu or the order might be rejected. Minimum wall thickness requirements are particularly important.


Threads thinner than each machine's minimum wall thickness in plastic will not resolve and are best done by hand. Metal cannot print threads. Heat stake brass inserts can be ordered for Jet Fusion nylon and Filament Extrusion ABS parts. Clearance for mates should be double each machine's tolerance.

As a general rule, plastic printed parts have best accuracy and quality when designed similarly to injection molded parts. Walls thicker and 1/4" and no filleted edges can particularly cause issue. If your parts ignore these rules, the tolerances may be worse than our guidelines – uncontrolled dimensional growth and shrinkage. You may also get surface defects like "elephant skin" (surface cracking,) "thermal bleed" (fused powder on the surface) and "meniscus" (significant surface sink.)

Parts larger than a given printer's bed size will need to be bonded together from multiple pieces. We have great experience in this. Hollow parts will need to include outlet holes to let out support material.

Do not have multiple bodies in the same file. That is very difficult for the shop to process and parts too close together will fuse.

Orders over $10,000 in Jet Fusion and $1,500 in other processes may have lead times beyond 5 business days. Rush orders over $2500 in Jet Fusion and $750 in other processes may take longer than 2 business days. Custom lead times will be communicated during scheduling. Please contact sales before ordering if you are concerned about the ship date.

.PDF, .DXF, .DWG and other 2D drawing formats are not supported by the tool. Models must be 3D CAD files to quote via the tool – over 45 CAD formats supported including STL, OBJ, SLDPRT, STP/STEP, IGS/IGES, 3DM, X_T, IPT and much more! Please contact sales for consultations on drawings and pictures.

Large, flat parts may be warp prone in all technologies but FDM. There are no hard/fast rules for this and parts will be reviewed and flagged by print technicians. Like injection molding ribs help significantly with geometric stability if designed correctly. Ribs should be 1/3 to 1/2 wall thickness with filets as large as possible. If you have concerns before ordering, please use our chat feature for a consultation. We will review all files for printability and give feedback upon which we can cancel the part order or run on a best effort basis with your approval.

If you have deep, thin holes with little or no line of sight, please consult with our staff. We may have issues clearing them out and in some cases could fuse shut if your part is thick enough. Depending on your design parts may have to be drilled out after printing.

Will Call is available for Oregon and Washington customers. Will call is open 10am – 12pm and 4pm to 6pm Monday through Friday for standard orders. Rush orders can coordinate with the sales team for extended pick up hour. Unless the customer has terms, orders must be paid in full prior to pickup or shipment.
We reserve the right to reject any order that after review does not conform to the above.
Detailed information about the service, machines and materials can be found on the instant quote page.
RapidMade is manufacturing COVID-19 Personal Protective Equipment (PPE) Orders under 30 units should be placed via the Amazon product links below. Fluid Barrier Face Masks
Read More »
From prototyping to industrial-strength parts and products, additive manufacturing (AM) offers an innovative solution for accelerating production timelines and keeping costs low amid rising inflation
Read More »
Now Hiring: Production Shop Technician Please send resume and cover letter to info@rapidmade.com if interested! Job Description: Learn in-demand production skills and be a part
Read More »